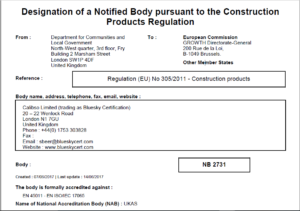 Bluesky Certification, the fire, security and acoustics certification experts, adds Notified Body status for product certification for panic exit doorsets and fire resistant doorsets. The latest addition means Bluesky can offer CE Marking certification for products that need the involvement of a Notified Body.
"The number of bodies certifying these products is very limited in the UK and we could see that there was a requirement to give companies an alternative," says Bluesky Certification's Managing Director Simon Beer. "There are many occasions when it's a better option to use a Notified Body. For example, a company looking to achieve Secured By Design for windows and doors is likely to need the additional service if they're manufacturing entrance doorsets in a block of flats that have a requirement for both PAS 24 and fire resistance.
"Customers will get the benefits of this new certification immediately and while CE Marking isn't a legal requirement for fire doors at the moment, third party certification is recommended in the Building Regulations. CE Marking for fire doors offers an excellent standard for companies and when it comes into UK law, companies will be ahead of their competitors.
"Rather than just a box-ticking exercise, we like to think about certification in a rounded way, that's why we look at how businesses can gain commercial advantage from it.
"Acceptance from the European Commission is the last stage in a lengthy process to become a Notified Body and it's a brilliant achievement for Bluesky Certification."