A new regulation has come into force, changing the way doors and windows need to be certified.
Approved Document Q (AD Q) came into effect on 1 October 2015, meaning that dwellings built in England will now have to include a minimum level of security. This has huge implications on the specification of doors and windows for developers, manufacturers, and installers.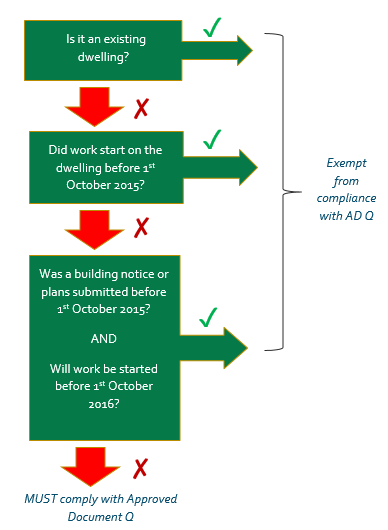 When does Approved Document Q apply?
It applies to all new buildings (even flats), unless the work started before 1st October 2015 or if it was started before 1st October 2016 and either a building notice or the plans were submitted before 1st October 2015.
What are the requirements of Approved Document Q?
It states that "Reasonable provision must be made to resist unauthorised access to any dwelling and any part of a building from which access can be gained to a flat within that building." In short, if there is any way that someone can gain access to a dwelling via a door or window, that door or window must be reasonable in regard to these regulations.AD Q goes on to explain what reasonable means.
First, it gives a set of absolute standards for doorsets (appendix B). If a manufacturer meets these standards they have complied with Document Q. These are unlikely to be useful for the majority of cases because they apply only to doors of certain sizes shapes and materials.
Secondly, ADQ states that products are considered reasonable as long as a company can provide test evidence for every variation of their product meeting PAS 24:2012 or equivalent standard (STS 201, LPS 1175, STS 202 and LPS 2081 are listed in AD Q) via a UKAS accredited (or equally credible) laboratory. Again this will be prohibitively expensive since every size and variation sold will require its own test.
Finally, AD Q allows for 3rd party certification of products. In this case the certifying body tests key configurations of the product to give them confidence of the manufacturing process.This certification has the same credibility as using test evidence but also gives confidence in the factory production control and audit testing which form part of the certification. It makes sense that the certifying body should be UKAS accredited or similar since UKAS accredited test labs should be used. Due to the reduction of tests necessary, this process ought to be lower in cost and hence make more sense for the majority of manufacturers.
Does AD Q apply to existing buildings?
No, this regulation only applies to new dwellings, and doesn't include replacement windows or doors, or windows or doors in extensions. However, it would make sense to fit AD Q compliant windows and doorsets in existing buildings for the following reasons:
Existing buildings are as much at risk from burglary as new dwellings
The additional cost of fitting an AD Q complaint window would be minimal if tackled at the point of installation,whereas an upgrade to a compliant specification at a later stage (for example after a burglary) would normally require replacement windows and doorsets to be fitted.
As new housing developments become more secure as a result of AD Q, burglars may divert their attention to other locations – increasing the risk for existing developments.
The option of an enhanced level of security on a product could be used to either gain a competitive advantage or provide an opportunity to upsell to an enhanced product.