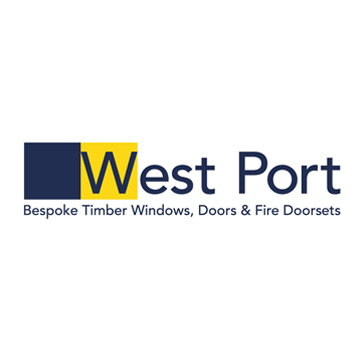 As one of the UK's leading manufacturers of bespoke timber windows, doors and fire doorsets, West Port offers one of the most comprehensive ranges of high-performance bespoke timber products.
Proud to be a successful British manufacturer, West Port operates from a 175,000 sq.ft purpose designed factory on the Cumbrian Coast, delivering throughout the country for installation by a network of licensed distributors and installers. West Port timber products combine quality engineering and technical know-how with designs that suit British buildings, traditional or contemporary.
Solutions are provided to an array of clients within both the public and private sector, not only meeting, but exceeding the demands of the modern construction industry.
West Port continually invest in the latest equipment and techniques ensuring the training and welfare of their 100+ strong team of highly skilled technicians and craftsmen that deliver the quality, performance and sustainability their customer's demand.
Current certification schemes:
Products covered
Scope Ref:
Gen. performance
Enhanced security
(PAS 24)
Fire resistant (BS476 Pt 22)
Fire Resistant Doorsets (UKCA)
H-Window Timber Fully Reversible
GPW-ESW-0019
✓
✓
Cauldwell Tilt and Slide Window
GPW-ESW-0020
✓
✓
'System-X' Timber Window (Grorud)
GPW-ESW-0021
✓
✓
'System-X' Timber Window (PN Uni / Maco)
GPW-ESW-0022
✓
✓
'Dual Swing' Externally Glazed, Outward Opening Reversible Timber Casement Window
GPW-ESW-0024
✓
✓
Energy Window
GPW-ESW-0025
✓
✓
Maelstrom Inward & Outward Opening, Timber Door
GPD-ESD-0026
✓
✓
Thirlmere Inward and Outward Opening, Single Timber Door
GPD-ESD-0027
✓
✓
Thirlmere Inward and Outward Opening, Double Timber Door
GPD-ESD-0028
✓
✓
Mill Panel Doorset
FDS-0088A
✓
Flamebreak FD30 Doorset
FDS-0088A
✓
Timber FD30 doorsets incorporated into a Pilkington glazed screen
FDS-0088A
✓
Strebord 44 FD30 doorset
FDS-0088A
✓
Strebord 54 FD60 doorset
FDS-0088A
✓
Trisound 53K FD30 doorset
FDS-0088A
✓
Trisound 53D FD60 doorset
FDS-0088A
✓
Fibrecore FD60 doorset
FDS-0088A
✓
Warmsprings FD60, FD90, FD120 doorset
FDS-0088A
✓
FD 60 Mill Panel unglazed doorset (with Alufire 60 Preficon core)
FDS-0088A
✓
Maelstrom timber doorset
GPD-ESD-FDS 0149
✓
✓
External Fire Resistant Doorsets
2731-CPR-010
✓
Scopes of certification are only valid when listed on the Bluesky Certification website. Full details of the scope of certification should be confirmed by requesting copies of the scope(s) referenced above from the certified company. The certified company remains solely liable for its products and services and Bluesky Certification does not accept any liability for any product or service offered or supplied by either the certified company, its customers or any other party. Whilst every effort is made to ensure the accuracy of this scope of certification, Bluesky Certification cannot accept liability for any loss or damage arising from the use of the scope. Where reports are not authored by Bluesky Certification, Bluesky Certification does not take any responsibility for any assessment of performance that have been made by the author of the report and full liability for any such assessments remains with the report author.