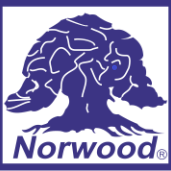 Norwood was founded in 1999. They are a Polish/Norwegian company specializing in window and door production. They have a full range of windows and doors which are distinctive for the Scandinavian market and in line with nature. Norwood is a family-run business of which its origins go back to 1948, the third generation of which has been dealing with production of H windows.  Today, thanks to experience and investment in cutting-edge technology, the company is one of the key companies clustered around Group H.  Norwood produce, sell and popularize H system woodwork themselves producing their whole range of windows and doors.
Current certification schemes:
Products covered
Scope Ref:
Gen. performance
Enhanced security
(PAS 24)
HBWH1 and HBWH1A Single Timber Door
GPD+ESD-0216
✓
✓
Tilt and Turn Timber Casement Window with Optional Aluminium Cladding
GPW+ESW-0217
✓
✓
Fully Reversible Top Swing / Side Swing and Fixed Timber Casement Window with Optional Aluminium Cladding
GPW+ESW-0218
✓
✓
HSTO Fully Reversible Open Out Timber Casement Window
GPW+ESW-0219
✓
✓
HSTO Fully Reversible Open Out Aluminium Clad Timber Casement Window
GPW+ESW-0220
✓
✓
HBWH2 and HBWH2A Outward Opening Double Leaf Timber Door including optional Aluminium Cladding.
GPD+ESD-0237
✓
✓
Scopes of certification are only valid when listed on the Bluesky Certification website. Full details of the scope of certification should be confirmed by requesting copies of the scope(s) referenced above from the certified company. The certified company remains solely liable for its products and services and Bluesky Certification does not accept any liability for any product or service offered or supplied by either the certified company, its customers or any other party. Whilst every effort is made to ensure the accuracy of this scope of certification, Bluesky Certification cannot accept liability for any loss or damage arising from the use of the scope. Where reports are not authored by Bluesky Certification, Bluesky Certification does not take any responsibility for any assessment of performance that have been made by the author of the report and full liability for any such assessments remains with the report author.