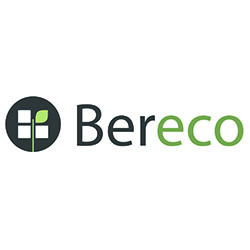 Established in 2003 Bereco have supplied over 180,000 bespoke, high performance, high security timber windows and doors to homes and developments around the UK.
Bereco's range of windows include classic British design casement windows, sliding sash windows and European design tilt and turn windows all of which are available in either contemporary, traditional or heritage styling. Classic timber entrance doors, french doors, folding-sliding doors and sliding patio doors complete the product collection.
Bereco also supply a range of entrance doors which include classic timber entrance doors and the uber-modern creative range of entrance doors that offer u values starting from 0.99w/m²K.
Manufactured using sustainably sourced engineered softwood and hardwood, advanced factory coating systems and architectural ironmongery Bereco's wood windows and doors come with warranties to back their claim of low maintenance products with an impressive 60 year life span.
Current certification schemes:
Products covered
Scope Ref:
Gen. performance
Enhanced security
(PAS 24)
High performance windows
Noise Reducing Windows
Contemporary Lipped Casement Window
GPW+ESW-0120
✓
✓
✓
Traditional Lipped Casement Window
GPW+ESW-0121
✓
✓
Traditional Flush Casement Window
GPW+ESW-0122
✓
✓
Tilt and Turn Casement Window
GPW+ESW-0123
✓
✓
Vertical Sliding Sash Window
GPW+ESW-0124
✓
✓
Vertical Sliding Sash Timber Window – 8.8/16/10mm
NRW-0168
B
39 dB Rw
Vertical Sliding Sash Timber Window – 8.8/20/16mm
NRW-0169
A
41 dB Rw
Vertical Sliding Sash Timber Window – 8.8/12/4mm
NRW-0170
B
38 dB Rw
Vertical Sliding Sash Timber Window – 4/16/4mm
NRW-0171
C
33 dB Rw
Vertical Sliding Sash Timber Window – 9.5/16/8.8mm
NRW-0172
A
42 dB Rw
Flush Door
GPD+ESD-0116
✓
✓
French Door
GPD+ESD-0117
✓
✓
Sliding Patio Door
GPD+ESD-0118
✓
✓
BRIO Folding Door
GPD+ESD-0119
✓
✓
Additional Certification Schemes:
Coatings and Finish Application
Scopes of certification are only valid when listed on the Bluesky Certification website. Full details of the scope of certification should be confirmed by requesting copies of the scope(s) referenced above from the certified company. The certified company remains solely liable for its products and services and Bluesky Certification does not accept any liability for any product or service offered or supplied by either the certified company, its customers or any other party. Whilst every effort is made to ensure the accuracy of this scope of certification, Bluesky Certification cannot accept liability for any loss or damage arising from the use of the scope. Where reports are not authored by Bluesky Certification, Bluesky Certification does not take any responsibility for any assessment of performance that have been made by the author of the report and full liability for any such assessments remains with the report author.